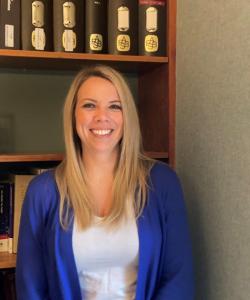 Amy joined RKO in July 2001. She graduated from Thomas College in Waterville, Maine in the spring of 2001, with a Bachelors of Science in Public Accounting. Amy brings to RKO her ability to speak French fluently.
While in college, Amy was involved in various student organizations. She also did an internship while in school which involved primarily corporate and individual tax work.
Amy is currently a Partner and works in the commercial and tax department. Her primary duties involve participation in commercial and school district audits, and various commercial, individual and payroll tax work. In addition to her primary duties, she is also involved in recruiting for the firm. She conducts interviews on various college campuses each fall.
Amy participates in a variety of CPE courses each year. Topics covered while attending these sessions include Audit and Accounting updates and the Maine Tax Forum. She has also presented tax training materials during in-house CPE training sessions.
Amy is a member of the American Institute of Certified Public Accountants.
In her spare time, Amy enjoys skiing, snowmobiling, hiking, camping and taking care of her home.